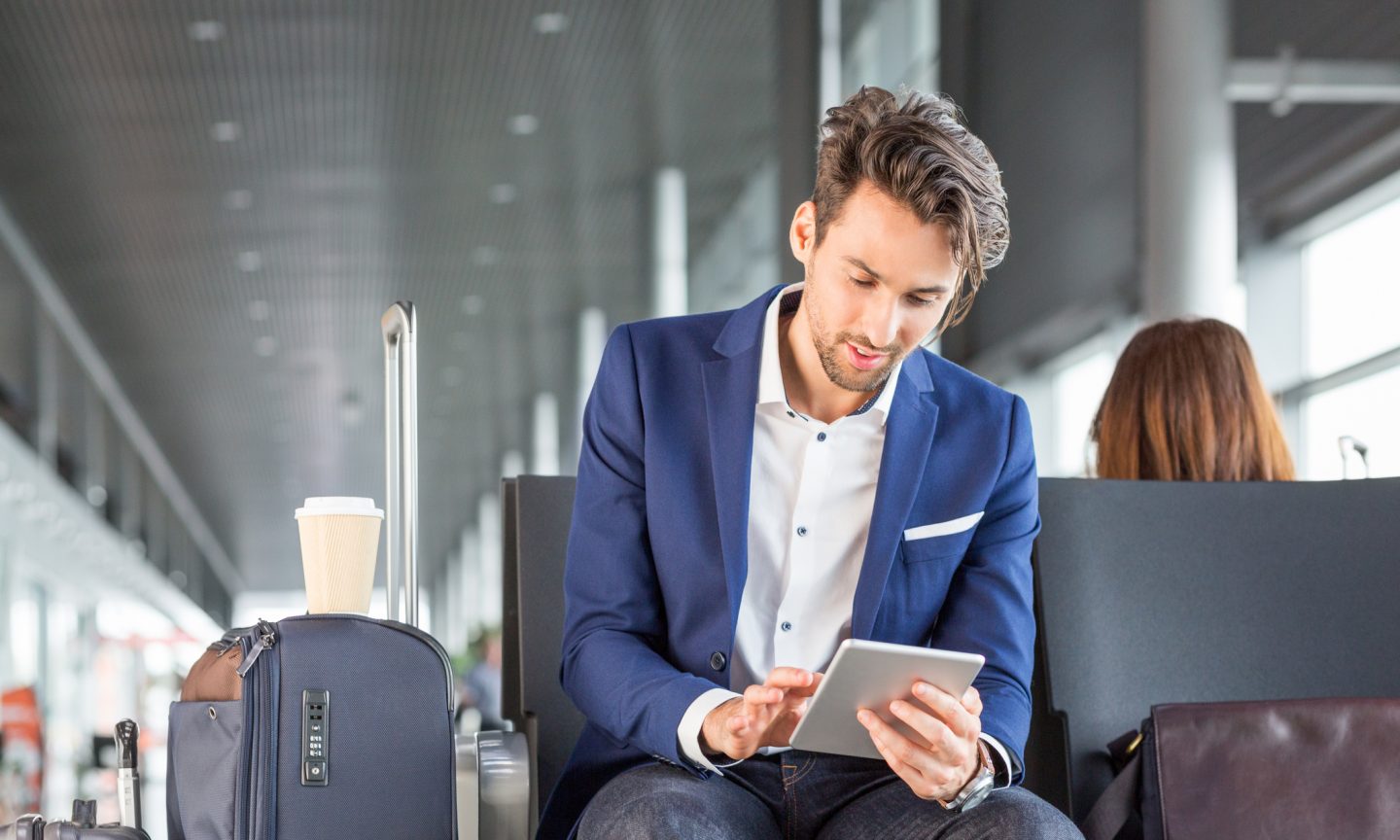 Guide to United Airlines Premier Elite Status
If you've experienced the perks of elite status (i.e., free upgrades, extra baggage allowance, lounge
If you've experienced the perks of elite status (i.e., free upgrades, extra baggage allowance, lounge access), you'll understand why it's so valuable. United Airlines' elite status program is called MileagePlus Premier, and it can be very rewarding not just for United flyers but also for those who travel on Star Alliance partner airlines.
Follow along as we discuss the perks that come with each elite tier, show you how to attain it and help you decide if it's right for you — whether you're a United Airlines loyalist or just a travel credit card novice. We will also cover the positive changes United announced to help elites due to the travel changes related to COVID-19.
In this guide
How to achieve elite status with United Airlines
This section will cover how to earn elite status with United by flying and through credit card spending.
What do you need to achieve elite status with United Airlines?
To achieve status with United, you will need to earn a specific number of premier qualifying flights (PQF) and premier qualifying points (PQP), or just a higher number of PQP. You will also need to complete four flights on United or United Express. This is a requirement for every status level.
One PQF is equal to one flight. So, if you fly on a paid one-way ticket from New York to Paris but have a connection in London, that trip will earn 2 PQF because there are two flights.
PQP generally correlate to the money spent on plane tickets and certain other categories, but taxes are excluded. You earn 1 PQP for every $1 spent on the following purchases:
Economy Plus seats or subscriptions.

Preferred seat purchases.

MileagePlus upgrade award copays.

Upgrades on United and United Express flights.

Star Alliance partner flights based on a specific earn rate.
PQF and PQP requirements for 2021 United elite status
Remember: Four flights are always required for any level, regardless of other qualifications.
These requirements are actually 50% lower than normal, given that United reduced thresholds to help customers attain status in a year marked by coronavirus-related travel bans.
How can I see how many PQP and PQF a flight will earn?
When you're looking at the search results for a specific route, you will see the number of PQP and PQF that will be earned on each flight. For example, here is a one-way nonstop flight from Newark to San Francisco: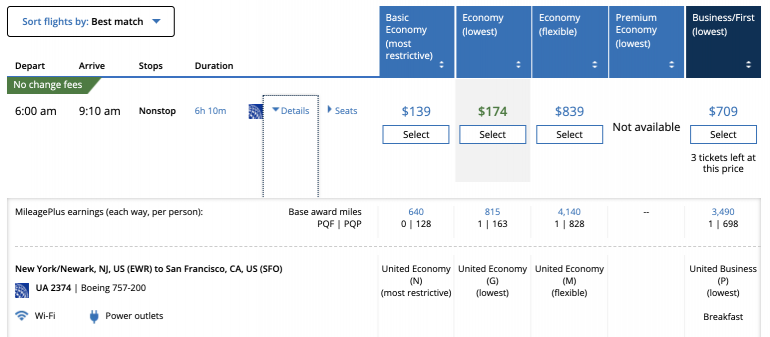 The Basic Economy ticket, which is the most restrictive, earns no PQF and 128 PQP. Although the ticket costs $139, you earn only 128 PQP due to about $11 in taxes (which earn no PQP). In contrast, a Business/First ticket earns 698 PQP and 1 PQF.
How can I achieve elite status with United Airlines quicker?
The fastest way to earn elite status is to buy more expensive tickets. As seen in the example above, the business/first class flight earns 698 PQP compared to only 128 PQP for the basic economy fare.
Another way to expedite your path to status is to meet spending thresholds on some United credit cards.
If you have the United℠ Explorer Card, United℠ Explorer Business Card or the new United℠ Business Card, you can earn up to 2,000 PQP by spending $48,000. Initially, you were able to earn only 1,000 maximum PQP — but in April 2020, United announced the additional PQP promotion. The spend requirement isn't right for everyone, but if you have a lot of chargeable expenses, this promotion could be valuable.
Although this would be enough PQP to reach Gold status, you would still need to earn the required 12 PQF, or earn an additional 1,000 PQP. You could also snag Silver after just four United/United Express flights.
Levels of elite status in the United Airlines rewards program
United offers four elite status levels, from lowest to highest: Silver, Gold, Platinum and 1K.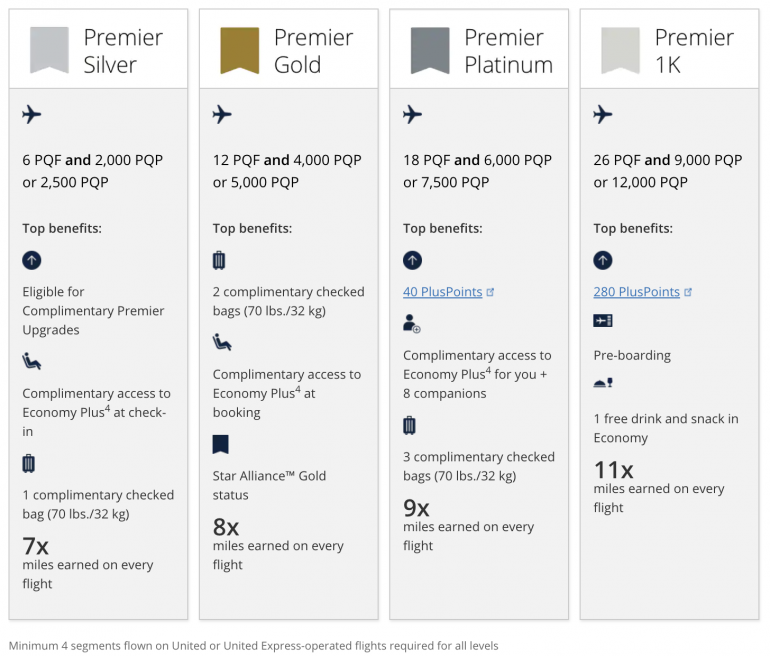 What are the differences between levels in the United Airlines rewards program?
The differences between the lowest (Silver) and highest (1K) elite levels are meaningful (upgrade access, earning rates and seat selection), and you can review United's full list of every single elite benefit. Below, we've outlined some of the most important perks of each tier.
How status matching works with United Airlines
If you have elite status with another airline and are thinking of switching to United, you could apply for a status match challenge and get matched to United Silver, Gold or Platinum. Currently, United does not offer a status match to 1K. The offer is not valid for those who have received a status match or status exception within the last five years.
What do you need to qualify for status matching with United Airlines?
The status that you are matched to depends on what status you have with another airline. For example, these are the status levels that get matched to Delta or American:
| Level matched to in United MileagePlus | | | |
| --- | --- | --- | --- |
| Delta Air Lines Medallion® level | | | |
| American Airlines AAdvantage elite status | | | |
One you are approved for a status match, you will need to earn a certain number of PQP and PQF (on flights operated by United or United Express) within a specified timeframe to keep your status.
| MileagePlus Premier status | |
| --- | --- |
| | Fly 4 PQF and earn 1,000 PQP |
| | Fly 6 PQF and earn 2,000 PQP |
| | Fly 10 PQF and earn 3,000 PQP |
What do you get when status matching with United Airlines?
As soon as your status match has been approved, you will receive most of the perks that are designated to elites at that status level. For example, if you're a Delta Platinum, you will be matched to United Platinum. Although you will receive most of the perks that come with Platinum, you will only receive 20 PlusPoints once you meet the PQP and PQF thresholds. To receive the total 40 PlusPoints that are usually awarded to Platinum elites, you will need to satisfy the normal PQF/PQP requirement for Platinum status (18 PQF and 6,000 PQP, or 7,500 PQP).
What is the process for applying for status matching with United Airlines?
An updated mileage summary or the most recent membership card from the airline frequent flyer program you are matching. The expiration date will need to be visible along with your current elite status. You will need to attach this documentation when you submit your claim.

Your preferred start date, which must be within 30 days before or after the current date (you can begin your match retroactively).
How to maintain your Premier status with United Airlines
The expiration date for elite status is Jan. 31 each year. To ensure that you maintain your status from year to year, you will need to complete the PQF and PQP requirements for your status level.
COVID-19 Note: If you already have status with United, your expiration has been extended to Jan. 31, 2022.
The bottom line
No matter which United status you aim for, the perks provided can significantly upgrade your flying experience. Although elite status can seem out of reach, the positive changes United initiated to help loyalists impacted by coronavirus-related travel bans should make it easier to achieve status. With these reduced requirements for elite status, if United services your home airport, aiming for elite status (or applying for a United status match) could make a lot of sense.
The information related to the United℠ Explorer Business Card, United℠ Business Card, United Club Card and United Club℠ Business Card has been collected by NerdWallet and has not been reviewed or provided by the issuer of this card.
How to Maximize Your Rewards
You want a travel credit card that prioritizes what's important to you. Here are our picks for the best travel credit cards of 2020, including those best for: