Although the pandemic has hit travel to Hawaii hard, it's just a matter of time until the Aloha State begins welcoming back travelers from around the world. In 2019, 10.4 million people visited the islands, many of them arriving via Hawaiian Airlines.
If you're patiently waiting out the coronavirus for a well-earned escape to Hawaii, consider traveling there in comfort and style in Hawaiian Airlines' aloha-spirit infused first class cabin.
How to book
Hawaiian Airlines offers direct service to Hawaii from 13 U.S. cities.
Hawaiian Airlines has its own frequent flyer program, HawaiianMiles, which lets you earn miles toward travel several ways, including by flying and by using the Hawaiian Airlines® World Elite Mastercard® for everyday purchases. For JetBlue flyers, a partnership between the two airlines allows you to use your JetBlue TrueBlue points to fly to and from Hawaii. Frequent flyers of China Airlines, Japan Airlines, Korean Airlines, Virgin Atlantic and Virgin Australia can also enjoy the benefits of these carriers' partnerships with Hawaiian.
The number of HawaiianMiles you'll need to travel first class to the islands depends on whether you're boarding a Hawaiian flight from the western U.S. or from one of the airline's two East Coast cities — New York (JFK) and Boston.
The first-class seat
Hawaiian Airlines prides itself on its seats. In first class, you'll get a full 180 degree lie-flat seat with all the perks.
Even on a short six-hour flight from a West Coast city like Los Angeles, you'll still get one of these comfortable lie-flat seats in first class. This sets Hawaiian apart from many competitors that don't offer fully lie-flat first class seats from the West Coast to Hawaii.
The lounges
If you're flying first class out of Hawaii to a destination in the U.S., you'll get access to the Hawaiian Airlines Premier Club. Here you can get a nice respite with free Wi-Fi, drinks, snacks and a comfortable place to relax.
If you're lucky enough to be flying first class out of Honolulu to an international destination, you'll get access to the Plumeria Lounge, Hawaiian Airlines' newest flagship lounge.
Not flying internationally, but still want to experience the luxury? You can snag a Plumeria Lounge pass at check-in for $40.
Onboard amenities
If your flight is more than eight hours, you'll get premium bedding for a good rest before landing. Plus, each seat also comes with two USB charging ports and an AC power port with universal connections so you won't arrive with a drained battery.
And what's a first class flight without first class food? Hawaiian airlines partners with local chefs to bring inspiration from the islands onto your flight. Currently, Hawaiian Airlines is partnering with Lee Ann Wong, executive chef and owner of the Koko Head Café in Honolulu. You might recognize her from her TV series or appearances on cooking shows.
Booking first class with cash
Depending on your dates, you can find first class seats from the West Coast starting around $1,250 round-trip. Considering the economy class ticket price, this might be an up-charge of just a few hundred dollars each way to travel in comfort and style from the West Coast. From East Coast cities, first class fares start just over $3,000.
Booking with miles
If you have a stash of Hawaiian Airlines miles, you can find first class seats from either coast for 40,000 miles each way, or you can spend 25,000 to upgrade from economy to first class. At times when flights are in high demand ("First Class 2"), a seat will cost you 80,000 from a western departure city or 130,000 from New York or Boston.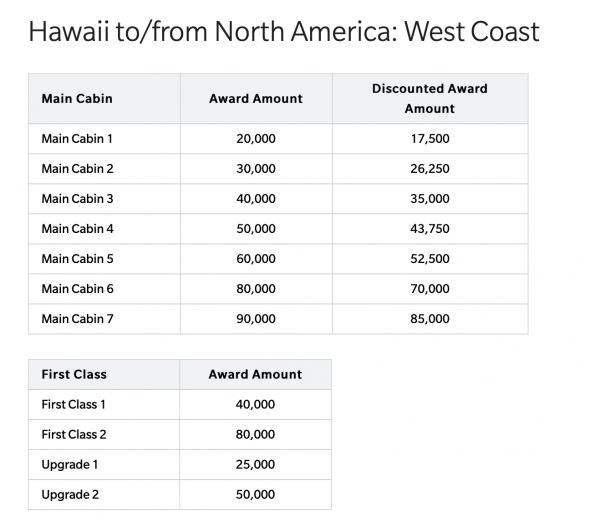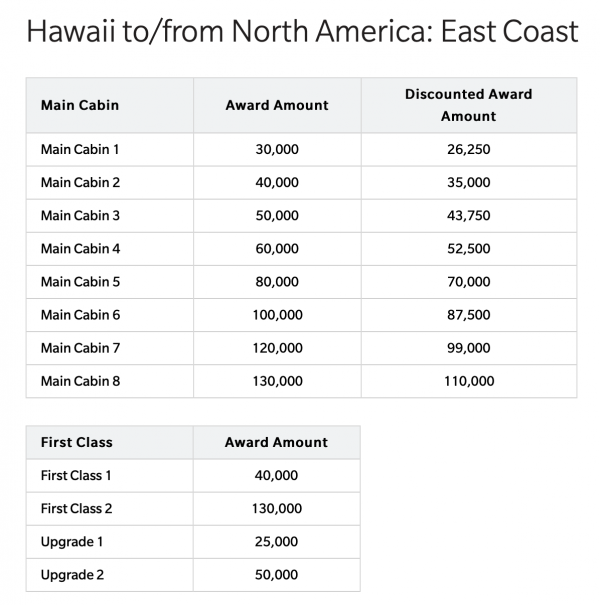 Convert Marriott Bonvoy points to HawaiianMiles
Hawaiian Airlines is a transfer partner of Marriott Bonvoy. Marriott points can be transferred for HawaiianMiles at a 3:1 ratio. Transfer 60,000 points and Marriott will add an extra 5,000 miles on for you. So 60,000 Marriott points will get you 25,000 HawaiianMiles — enough for a one-way upgrade to first class.
For travelers who don't have many opportunities to earn HawaiianMiles, this is a good way to get the miles you need to fly.
Should you fly Hawaiian Airlines First Class?
In short, absolutely. The seats are some of the best flying to the islands, and the onboard experience helps you start your Hawaiian vacation off on the right foot. While paying $3,000 for a round trip from the East Coast may seem a bit high, there are plenty of options using miles and points to get there, making it that much sweeter.
How to Maximize Your Rewards
You want a travel credit card that prioritizes what's important to you. Here are our picks for the best travel credit cards of 2020, including those best for: