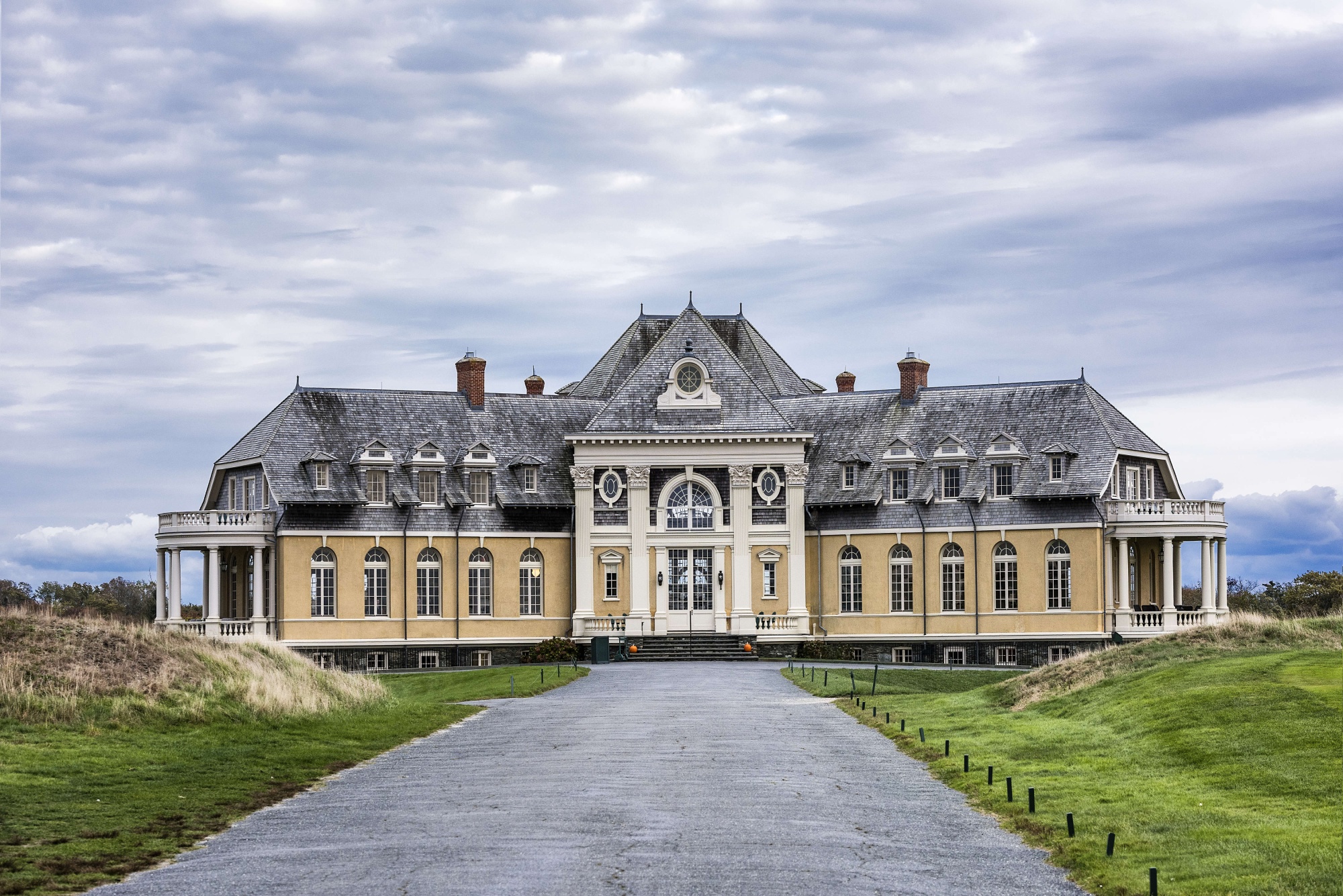 Newport, Rhode Island, is a small New England beachfront town with a permanent population of 26,000 and an amazing collection of historic homes. Billed as "America's First Resort," the 350-year-old city on Aquidneck Island hosts more than 3 million tourists every year. They come for the boating, the famous folk and jazz festivals (both canceled this summer), and the architecture.
The narrow streets of the Point along the waterfront are lined with hundreds of modest homes from the early 1700s, one of the largest ensembles of colonial architecture in the country. On Historic Hill sits an assortment of grander antebellum, classical and Gothic Revival structures from the latter part of the 18th and early to mid-19th century, many built by Southern plantation owners. Newport also boasts what is probably the most opulent thoroughfare in the country, a several-mile stretch of Bellevue Avenue lined with shade trees and palatial limestone mansions built by Gilded Age robber barons and industrialists.
But in many ways Newport has become a victim of its success. Its historic streets clog with tourist traffic during the summertime, and its downtown waterfront is being choked off by large hotels catering to vacationers and wedding parties. Some complain that the historic preservation laws and zoning regulations responsible for keeping Newport so unique are inadequate, and those that are in place are increasingly being violated, if not in law then in spirit. The city is also a study in contrasts, with an unemployment rate over 14% and one of Rhode Island's worst-performing public schools. About 15% of the housing in the city is publicly subsidized, one of the biggest percentages of any municipality in Rhode Island. Most of that housing is clustered in the city's lower-income North End neighborhood. Segregated both by discriminatory housing policies and infrastructure, the North End is a place that tourists and summer residents don't generally see.
The North End has also been the focus of an increasingly intense battle over development. A massive state transportation project is set to reconfigure the exit ramps of the Claiborne Pell Bridge, opening up land that since the late 1960s has walled off the North End from the more affluent southern half of the city. Nearby, the Carpionato Group, a Rhode Island-based development company, has proposed replacing a long-vacant casino, the Newport Grand, with a $100 million mixed-use office, retail and apartment complex called Newport North End. If built, it would be the largest private development in Newport's history, and the anchor for a proposed tech-focused "Innovation District" that promises to bring jobs and economic opportunities.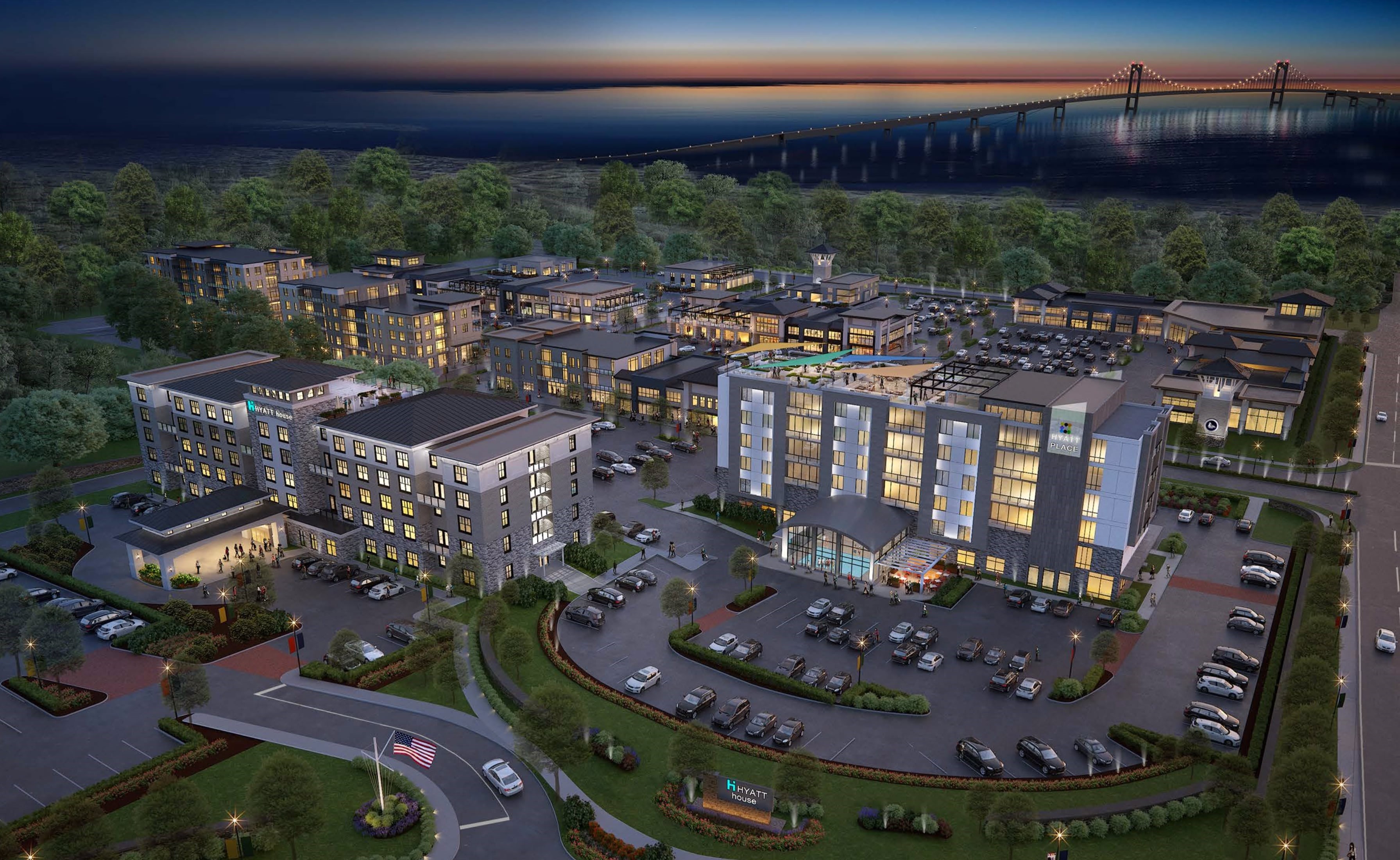 But many North End residents fear that the project will instead bring only low-wage jobs and displacement. Since the 2000s, the Newport Housing Authority has been making ongoing investment in the neighborhood under the Hope VI program, which provided federal grants to redevelop distressed public housing projects. While there has been progress — drab barracks-style public housing projects have been replaced with mixed-income buildings such as Newport Heights, which is designed in a neocolonial style and painted in vibrant cheerful colors — residents worry about rising housing costs. "We have seen it more than once where businesses come in and contribute to gentrification," says Niko Merritt, founder of Sankofa Community Connection, a local organization dedicated to African-American empowerment. "People cannot support their families off $15 an hour. What is their future going to look like?" 
The development's opponents in the North End have allies in the town's affluent landmarked neighborhoods on the other side of town: There, leaders of a well-organized opposition see the project as an anti-urban assault on Newport's historic character, even though it lies outside the zone protected by preservation laws. Last October, in response to a well-organized grassroots campaign against new development, Newport's city council took the unprecedented step of rejecting a proposed zoning amendment the Carpionato Group had presented and imposing a six-month development moratorium for the North End to give Newport's planning department time to come up with their own zoning amendment and for community members to express their concerns. 
After being extended for several months due to the coronavirus pandemic, that moratorium expired on July 8. The city also hired the Boston-based firm NBBJ to run public forums and to produce a roadmap for future development, with aesthetic and land-use guidelines, called the North End Urban Plan. The final draft includes proposed zoning regulations for the North End that NBBJ developed in conjunction with the Austin, Texas-based zoning code consultancy Code Studio. In addition, it calls for landscape architects to plan for flood mitigation and stormwater management in this low-lying coastal area through the development of green spaces. "We have a lot of information that needs to be synthesized about what the community feels are the right mixture of uses for the area," says Patricia Reynolds, Newport's recently hired director of planning and economic development. But some objectives are already clear: "We are not looking for big box stores," she says. 
Like larger cities that are imposing construction and demolition bans in the face of fears about gentrification, Newport is wrestling with fundamental questions about what kind of city it wants to be, and how to encourage development that doesn't displace residents or fundamentally change the city's character. In a town with such a striking gap between poverty and affluence, that's a big ask. "It would be so significant if we could break up the ghettoization of this area of predominantly subsidized housing and reintegrate it into the fabric of the city," says Susan Taylor, a Newport City Council member who co-sponsored the development moratorium. "The people I hear from are desperate for the city administration and the residents to take a step back and have a serious conversation."
"Our history is an embarrassment of riches. We are looking for something that respects the character of our city."
Among the powerful foes of the project is Ronald Lee Fleming, president and founder of the Cambridge, Massachusetts-based Townscape Institute, an organization devoted to fostering a civic oriented approach to urban design, which has a conference center in a neocolonial edifice Fleming recently built on his Bellevue Avenue estate. Fleming has taken an active role in beautifying and calling attention to Newport's history, paying for historic plaques along Bellevue Avenue and sponsoring the annual spring planting of daffodils throughout the city. For Fleming, the original Newport North End proposal, which showed a series of suburban-style buildings surrounded by parking lots, is an affront to the design principles that he advocates for throughout the country. "What they are proposing is a development that is in a parking desert with a couple of hotels that has no walkability and no linkage to one of the last pieces of green space in the neighborhood," he says. "There is no identity or urban design that would reinforce the livability."
The Carpionato Group was surprised at the backlash last fall that led to the moratorium. "We believe it [the moratorium] was a misguided action by the city council," said company spokesperson Gregg Perry in a subsequent phone interview. "It delays taxes coming into the city." The company has estimated that Newport North End would annually bring in $1.5 million in tax revenue. But Perry says that the developer is committed to revising its plan to address community concerns. "Beauty is in the eyes of the beholder; we work with the community — to the extent that we can get feedback." 
The roots of the conflict stem in part from the fact that Newport never updated its zoning codes for the empty casino site in the North End before the sale of the property. In 2018, a consultant for the city developed a plan to create an Innovation District that would encourage high-tech businesses and their workers to move into the area around the Pell Bridge, which required rezoning from a commercial area to a mixed-use one with housing. But the area was never rezoned as such. "Zoning is really important because it determines what you can build and what you pay for the land," says Barbara van Beuren, a Newport resident who is an architect and a managing partner in the New York City development firm Anbau. "It is not that development is bad," she says. "But in this case, the developer's and the city's interest are not in agreement and if the city is not properly regulated, it has limited options to achieve its goals. This is common in smaller municipalities with limited resources to spend on planning."
One of the organizers of the opposition to the Carpionato Group proposal is the kind of business owner that the Innovation District plan was hoping to attract. "The most significant barrier to innovation in Newport is the high cost of living on the island," says Joseph Hearn, the founder and CEO of Advanced Remarketing Solutions, an auto-parts distributor that uses technology to link buyers and sellers of low-value vehicles. Hearn and his wife launched an online petition called Hit Pause for Newport last fall to stop zoning changes throughout Newport until the long-term impacts of current projects, which he says number more than 20, can be better understood. He's skeptical that the Newport North End proposal would attract the type of young professionals he and other entrepreneurs would want to hire. "It is not the kind of residential that is going to bring in the people we need — the web developers and coders," he says, "For me, it is the same thing that is affecting the people of the North End who are saying, 'What's in it for us?'"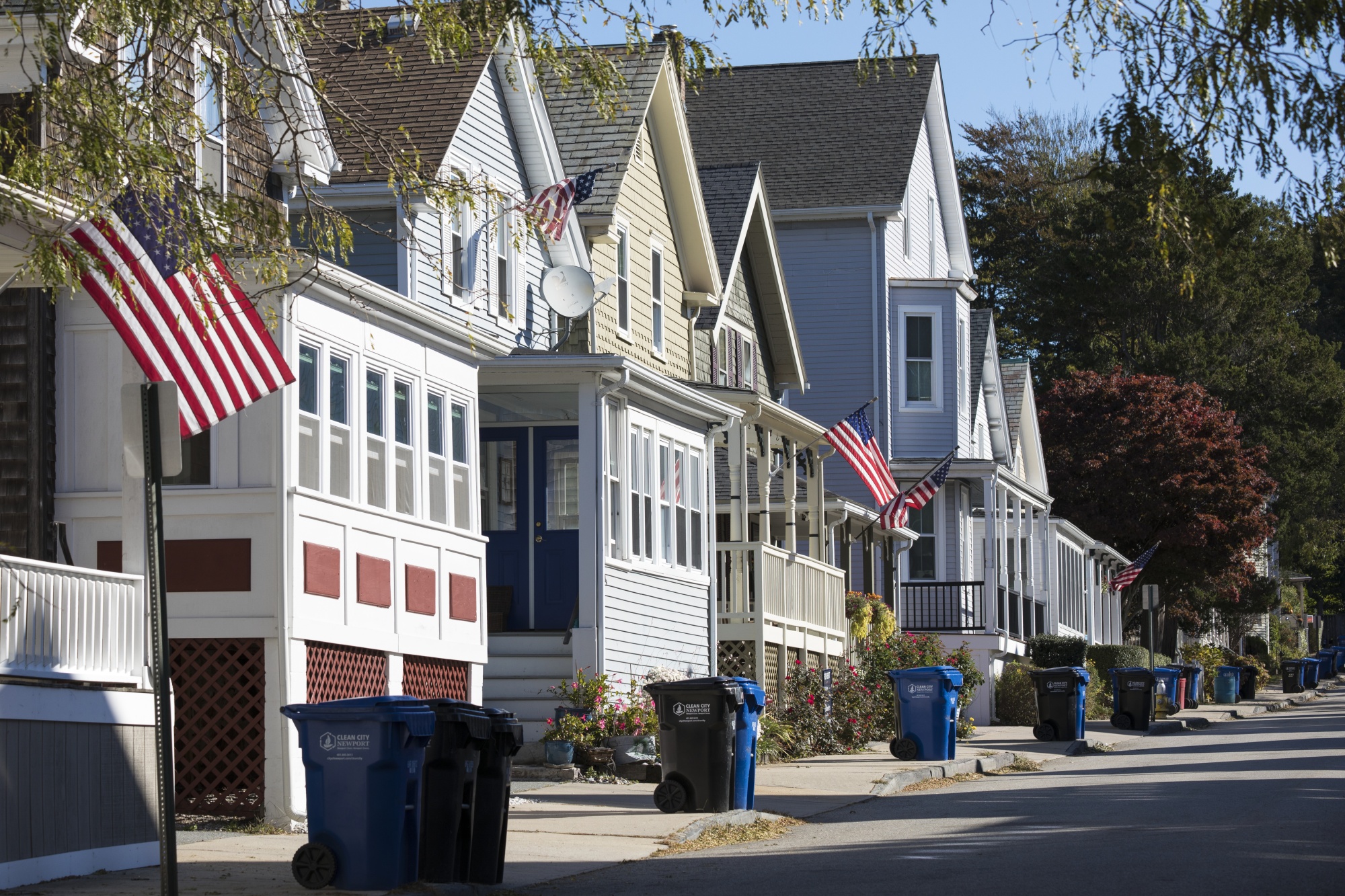 Fleming and his allies at the Townscape Institute are lobbying Newport to adopt urban design guidelines to shape future development. "Design guidelines are a way not only to protect the character that is important to the tourist economy in Newport," says Jeffrey Soule, recently retired director of outreach and international programs at the American Planning Association, who helped Fleming found the institute. "It also is important for the low-income neighborhoods because you are talking about streetscapes, streetlights, landscape. It is not just about the high-end aspects; it is also about making improvements for the entire city."
Such a fine-grained approach to urban design and planning — a signature of cities like Madison, Wisconsin; Santa Fe, New Mexico; and Boulder, Colorado — is fairly rare in the United States. "One of the challenges is that many of communities don't have a consistent regulatory approach," says Soule. "Normally, a moratorium is an extreme measure, but here in Newport it is important to give the city council and the planning director a chance to regroup."
Development pressures in Newport are so intense that last fall the city council even entertained Hit Pause's proposal to impose a moratorium on commercial development throughout the entire city. "A lot of the waterfront isn't public anymore," Soule says, referring to the area where luxury hotels are being built, which also hosts shipyards and other marine industries. "There are not many places where you can experience traditional waterfront activities like boat building. This is a case where a specific targeted plan and a regulatory approach is necessary." 
As a result of moratorium, Newport has been looking at a wide range of issues that the new North End Urban Plan could help leverage. Among the options on the table include a community benefits agreement, whereby private developers who want to build in the North End would commit to paying for amenities like a public library, affordable housing units, parks, performance spaces, and small business incubators and support facilities. City officials say they also want new development to take advantage of the bridge redesign and reintegrate the North End with the rest of the town.
"Our history is an embarrassment of riches," says Reynolds, from Newport's planning department. "We are looking for something that respects the character of our city. It doesn't mean historic-looking buildings — it could be modern buildings with the right proportions."
Whatever it looks like, North End residents are hoping that investment in the neighborhood will benefit existing residents as well as new ones. "They are contributing to gentrification," says Sankofa's Merritt, "and we as community members don't want to be displaced."