A post about an employee who allegedly stated they "will not work," even if their vacation request following the death of their grandmother gets denied, has gone viral on Reddit, where it has received more than 10,000 upvotes.
In a post shared under the username AlbinoRayneDeer, a friend of the employee showed a screenshot of an exchange between the employee and their "boss." The image was titled: "No, you can't take your earned vacation with nearly two months notice."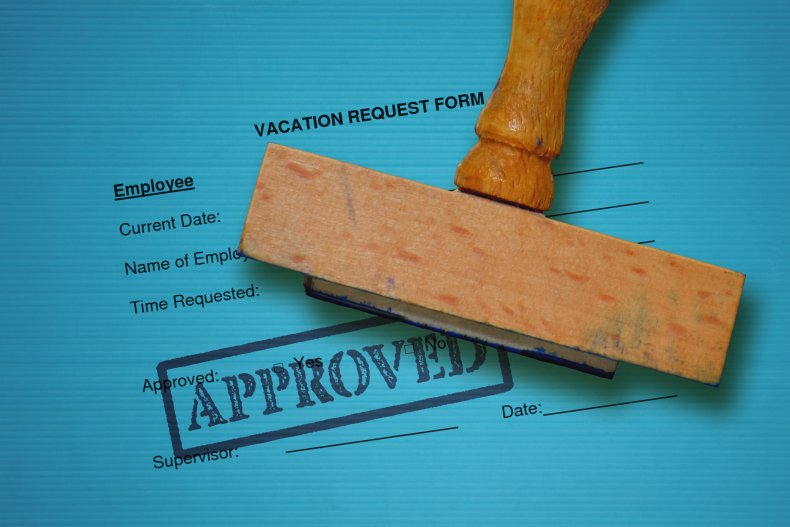 According to a Pew Research Center survey conducted in February 2022, the "quit rate" in the U.S. reached a 20-year high in November 2021. Among the 6,627 adults surveyed, 24 percent said that "not enough flexibility to choose when to put in hours" was a "major reason" for leaving their job.
Among the other top reasons why employees in the U.S. quit their jobs in 2021 was low pay, a lack of opportunities for advancement and feeling disrespected at work, the survey found.
In a later comment, the original Redditor wrote: "I posted this on behalf of my friend, I've got nothing in it except being his closest pal with a Reddit account lol [laugh out loud]," when asked whether the title of the image shared was an actual quote from the boss.
According to the image, the employee had requested to take vacation days from October 22 to 24 inclusive, stating they are "visiting family that are going away for a long time. Will not work even if it gets denied."
In a message later sent to the employee, their boss allegedly said: "This is grounds [for] termination, so whether [you're] approved or denied, you're making that choice. If there's no coverage, there's no coverage," according to the screenshot.
The worker then replied to the boss: "Grandmother died and I want to visit people I haven't seen in a long time. I won't be in the city. I have [lessened] the amount of days. It's a month away and the tickets are non refundable.
Several Redditors sided with the employee in the latest viral post, advising they should "quietly quit" their job.
"Quiet quitting" doesn't actually mean leaving your job but rather refers to doing the bare minimum required for it, to achieve a better work-life balance.
Generation Z workers use the phrase on TikTok, where the hashtag #QuietQuitting has received 121 million views.
But according to the Los Angeles Times, the first use of the term "quiet quitting" was by Bryan Creely, a 44-year-old career coach and a longtime former corporate recruiter who was laid off during the COVID-19 pandemic in 2020.
He shared a video in March on TikTok, with the caption: "More people are 'quiet quitting' instead of leaving."
Creely said in the video: "You don't want to quit? Try being lazy instead… a lot of people are just kicking back and taking it easy instead of quitting their jobs and it's actually working.
"Over the past year specifically there's been a seismic shift in the way people view work and their relationship with the work arrangement.
"Those of us who grew up in hustle culture, where you have a constant, incessant need to work, work, work—and work becomes the main priority of your life to get ahead—I think that has taken a seismic shift over the last year to year and a half," Creely said.
Several Redditors wrote messages urging the original poster to start looking for another job.
In a comment that received 4,300 upvotes, Gaerfast wrote: "Sounds like it's job hunting time."
In a post with 1,800 upvotes, onefishtwoshoe said: "Just go now. 'Thanks for the notice, please mail my check.' I know that's not possible for everyone, but since they don't care anyway…"
User bnh1978 commented: "Sounds like it's time to 'quietly quit' while looking for new employment," while Redditor daytonakarl wrote: "Being "quietly fired" so definitely start looking."
Newsweek has contacted the original poster for comment.
If you have a similar work dilemma, let us know via [email protected] We can ask experts for advice, and your story could be featured on Newsweek.
https://www.newsweek.com/vacation-denied-work-employment-quiet-quitting-resignation-1742378