A couple were left horrified after a "romantic" horseback ride in Jamaica took an unfortunate turn.
Travel blogger Michelle Burnett posted footage on TikTok from a trip with husband Dan Bagby. During their stay on the Caribbean island, they decided to try a bit of horseback riding on the beach.
Burnett and Bagby's travel blog specializes in testing honeymoon experiences and has built a significant following. Honeymoons aren't just about relaxation after the stress of wedding preparations. According to Andrea Dindinger, a San Francisco-based marriage therapist, they're an important event for the couple.
She told planning website The Knot: "You and your spouse are completely focused on each other and the joy your union has created. This infusion of joy helps solidify the foundation of this lifelong commitment."
On the basis of Burnett's video, newlyweds looking for an infusion of joy may want to avoid horseback riding. In the clip, which has been watched more than 5 million times on TikTok, the blogger is filming from the saddle.
As her horse wades through the water just behind another holidaymaker, the video shows the crystal-clear Caribbean turning a distinct shade of brown.
It becomes apparent that one of the horses in the procession is defecating, with those behind forced to wade through the mess.
"'It'll be fun' they said. 'It'll be romantic' they said," reads a caption accompanying the footage. Burnett can also be heard on the clip retching as the water changes color.
The travel blogger told Newsweek that she shared the video because "people should be made aware that this is likely to happen."
"This was the third time that a horse had pooped in the water," she said. "The guides kept instructing us to stay in line and keep our legs down, so there was no avoiding it. And it just kept happening!"
Burnett said she was left feeling unclean. "The horseback riding was the first part of a four-experience excursion, so we spent the rest of the day wearing the same clothes and shoes," she said.
"Honestly, the water probably diluted any real remnants from the situation, but we were excited to finally get a proper shower and wash our clothes."
Her video got a strong response on social media, with one viewer expressing horror at "the way it's just floating there."
Some pointed out that the woman in front's hair appeared to be touching the brown water, while many said they had experienced similar while horse riding.
Responding to one comment, Burnett admitted that she did "regret" going on the excursion. However, she has taken some solace from the fact that so many others have been through the same.
"Since posting this video, we have received hundreds of comments from people saying the exact same thing happened to them," Burnett said. "But mostly, the comments from this video have had us laughing for days, so we've loved that it struck a chord with people."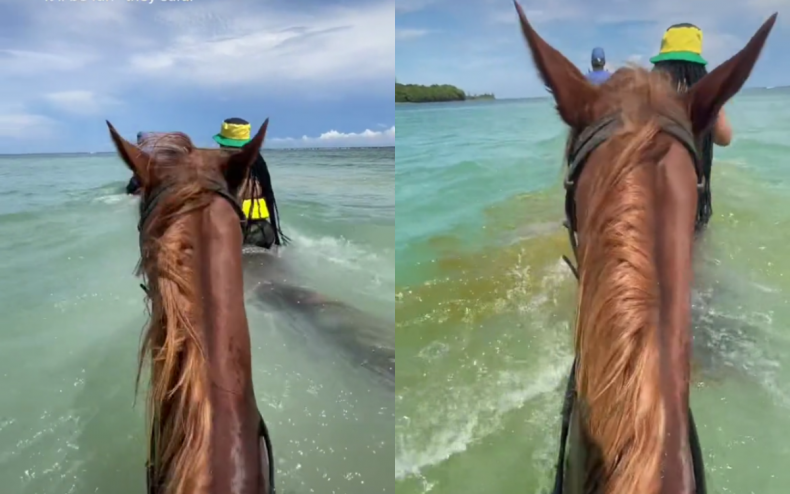 https://www.newsweek.com/couple-romantic-vacation-ruined-beach-horse-ride-backfires-tiktok-video-1745257