A woman shared a clip on TikTok of her recent vacation with her 72-year-old "boring" mom, whom the internet has fallen in love with for her "positive energy."
The mom of seven shared the video of her recent holiday with her elderly mother, under the username Tessgiddingsx, showing how fun the mom turned out to be on vacation.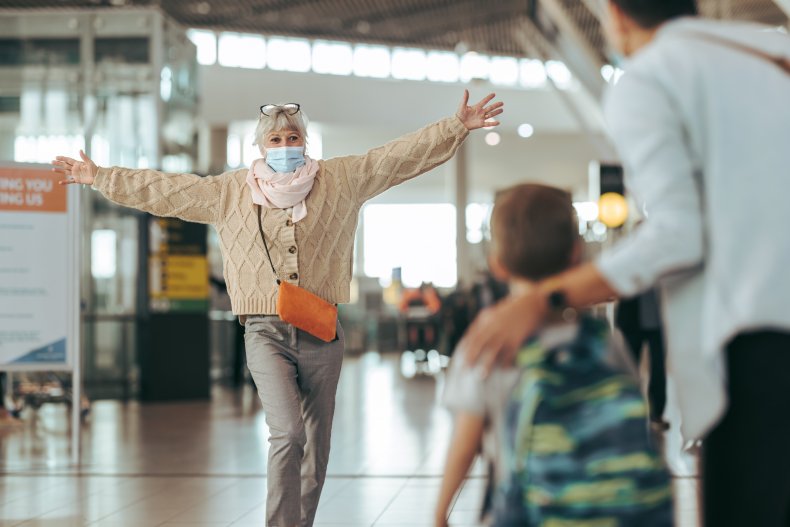 The post came with a caption that read: "I hope this goes viral😅 This ladies and gentlemen […] is my mother! 72 years old living her best life! Living proof you're truly only as old as you feel 🙌🏽🙏"
However, Tessgiddingsx joked in another earlier caption: "why would you go on holiday with your 72yr old mum how BORING!"
A study by University College London (UCL) found that those people who felt three or more years younger than their actual age have a lower death rate than those who felt their age or more than one year older.
The study, which analyzed 6,489 individuals, found that most of the adults, 69.6 percent, felt three or more years younger than their actual age, while 25.6 percent had a self-perceived age close to their real age. Only 4.8 percent felt more than a year older than their actual age.
According to the study, mortality rates during an average follow-up of 99 months were 14.3 percent in adults who felt younger, 18.5 percent in those who felt about their actual age, and 24.6 percent in those adults who felt older.
The post, which was shared on TikTok on Sunday, has so far more than 390,800 views and 58,600 likes, and the internet is in love with the mother.
One user Kim Hughes wrote: "Wow 72 !!!! She's amazing," while Jacklyn078 commented: "Omg I love her."
Jess and Norma wrote: "She's full of life I love her!!" while UsAlwaysX commented: "Omgggg she is life!!!! What a woman!!" CleaningWithCharlotte_ added: "Your mother is such a vibe!! Such a beautiful relationship."
Another user, Jodie Bagnall, loved the video so much that she asked to be the mom's friend: "Can I be her friend please she's one cool mumma." while _goneforeverx wrote: "I hope to be like her at 72. What a woman."
Some users loved her energy so much that they even wanted her as their new mom. Slimmerwithcilla wrote: "Honest question, could she adopt me? I won't be any trouble, promise."
Teddy commented: "what a woman with positive energy!!!! Enjoy every moment with her." And rachael bennett65 added: "I don't know her and I love her so much already!!"
Newsweek reached out to Tessgiddingsx for comment. We could not verify the details of the case.
Do you have funny and adorable videos or pictures you want to share? We want to see the best ones! Send them in to [email protected] and they could appear on our site.
https://www.newsweek.com/girl-shares-how-boring-vacation-seventy-two-year-old-mom-hilarious-vid-1739907